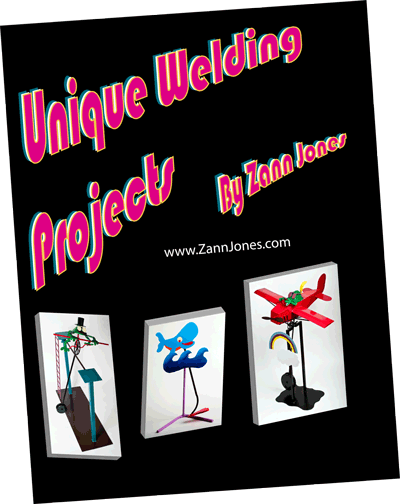 The book Unique Welding Project is a collection of my artwork that I have made over the last 15 years.  It includes a wide range of welding projects that you can make using basic welding equipment and tools.  Some of the welding projects are: kinetic sculptures, mailboxes, trailer hitch covers, whimsical art projects, and a bicycle stand.  The book contains detail color pictures, dimensions, and illustrations to assist in making the various welding projects.  Most of the material is available at any local steel distributor.  The book does not provide a detail step by step of instructions.  It provides mostly pictures and sketches how to make the various projects. 
I have decided to put the entire book on the web.  I feel it is important to be able to browse the entire book, and then decide if you want to purchase it.  To reduce the file size of each chapter, the pictures were saved at a low resolution. 
If you decide you like to purchase the book, it is available through Amazon.com.   The book is a print-on-demand book.  When you order the book, Amazon will print and mail the book to you.  Print-on-demand publishing is more expensive since they print each book individually.  The price of the book is $25.00 plus shipping. 
Ideally, I would like to find a publisher to print my book. If you enjoyed my book and you know someone in the book publishing business, please show them the book or the web site – Thanks.  If you have any comments or suggestions, free to email at zann@zannjones.com.